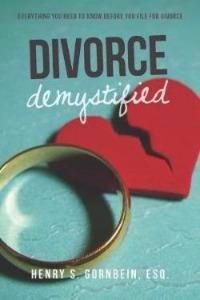 When newly pregnant, I read and re-read my favorite book, What to Expect When You're Expecting, until its cover was ripped and the pages were falling out. It gave me a second opinion on my doctor's advice; and it was a voice of reason that calmed my worry-bugs in the middle of the night and (thankfully) skipped the medical jargon in favor of plain English.
If you know someone experiencing divorce (another of life's major transitions), Henry Gornbein's new book, Divorce Demystified is a must-read. Gornbein, a family law attorney with more than 40 years of experience, shares the inside scoop on what to expect when you're divorcing. This book is, in fact, the divorcing person's equivalent of the "What to Expect" guides. Providing an experienced second opinion that offers advice without judgment, this book is a welcome addition to the divorce self-help catalog.
Not sure what to look for in a divorce attorney/client relationship? How can you evaluate your attorney's effectiveness? How is alimony taxed as compared to child support? Maybe you need to hear that the one issue you're digging your heels in on isn't going to end in your favor. These topics and so many more are gently folded into text that is both empowering and practical.
Gornbein has advised a diverse clientele with a variety of common and unusual issues and wants you to benefit from the mistakes he's seen clients make along the way. Forget the glossy overview; this book tells it like it is. Many books in this genre do offer tidbits of valuable advice, but many are ridiculously filled with legal jargon which makes the advice inaccessible to the reader. Gornbein's text, however, is clear both to the novice and those with knowledge about divorce matters. That makes it a truly valuable tool for all levels of experience.
There is a particularly eye-opening chapter on the impact of social media and technology on today's divorcing couples. Prepared to read the familiar advice, "Don't post pictures of yourself in a compromising position on your public Facebook page," I was surprised to find brand new tips and advice everyone should consider. The issues raised regarding the legality of taping in your home, cell phone tracking and social media trolling were particularly enlightening.
As a financial professional working in the divorce arena, Gornbein raises legal, financial and psychological issues that I wish more of my clients understood. Of course, as Mr. Gornbein reminds his readers, this book isn't meant to take the place of sound legal advice for your particular situation. However, anyone contemplating or experiencing divorce can always use a second opinion in the middle of the night when their worry-bugs strike.